5 Things To Do In Kochi, Japan
Being home to Sakamoto Ryoma (aka the man who played a pivotal role in modernising Japan) and temples on the 88-temple pilgrimage, Kochi is steeped in tradition and history. Let's learn 5 ways to uncover Kochi's charms!
1) Try out the 88-Temple Pilgrimage
Keen to do something contemplative and meditative, Japanese people undertake the 88-temple pilgrimage all around Shikoku. Now, visiting 88 temples may be a mission impossible but at Kochi City, you can visit 3 temples (Chikurin-ji, Zenjibi-ji and Sekkei-ji) and uplift your spirit in the process!

2) Visit Katsurahama Beach
Japan boasts about many great beaches but Katsurahama Beach stands out from the pack with its huge statue of Sakamoto Ryoma 坂本龍馬. Sweat it out in the hot sun or sit down to look at the powerful waves lapping the shore.

3) Join the Yosakoi Dance Festival
Kochi came up with the Yosakoi Dance Festival in 1954 to boost the spirits of post-war Japan. It has carried out this prideful tradition ever since. Go out of your comfort zone by taking part in the festival itself! Come on August 10 and 11, and you can dance with an explosive energy and a gentle grace!

4) Eat delicious Katsuo (Bonito) Sashimi
Kochi's signature dish, Katsuo Sashimi will send your taste buds into divine frenzy with its katsuo fillets seasoned with soy sauce and citrus dressing!

5) Shop your heart out at Hirome Ichiba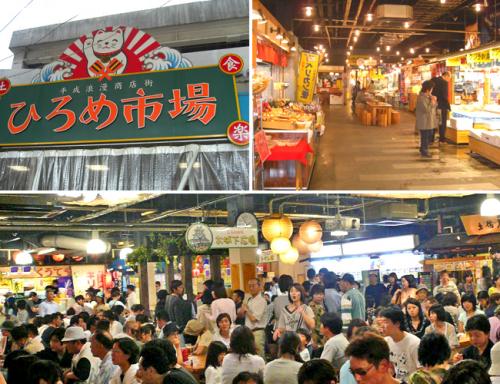 This market showcases so many exotic local delicacies that you would be spoilt for choice when it comes to buying souvenirs. Aside from food, interesting pottery and jewelry are also readily found.